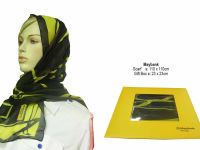 Silk Printing Head Scarf
Custom Printing Square Silk Head Scarves according to customer's design.
Size: 110 x 110cm
Material: Art. Silk
Silk Head Scarf

Women's headscarf refers to all women's hoods used to cover or wrap hair and most of the head of the head. In addition to the scarf itself shade, warm function, also with important apparel in religion; especially Islam, whether women wearing with scarves, comes with extremely important significance.
Hijab Silk Headscarves fashion styles, being either with elegant long hair and pretty short hair how can we be more outstanding? Do not worry, a small silk scarf can help you ~ wrap hair with our professional corporate scarf.
Alternatively, can also take a stylish fabric textile wear to tie along the hair next to the face together, the most suitable for busy work or home cleaning.
Like Silk Scarf (Head)?
Send in your enquiry details and we shall get back to you asap.
KL Gifts Wholesale Price
Hotline: 03-7981 2999 for Premium Gift Catalogue and Pricelist. ------------------------------------ Custom made manufacture of corporate gift products, provide idea, gifts' brain storming and beyond creative design & logo render production manufacturer. Specialise in Corporate Gift, Annual Dinner Door Gift, Customized Promotional Free Gifts etc. Distribute around Malaysia to Kuala Lumpur, Selangor, Penang, Johor Bahru, Sabah & Sarawak corporate gifts distributor. Our gifts are mostly imported from China, Hong Kong, India.

- Barang Jenama Harga Borong Jualan Murah -