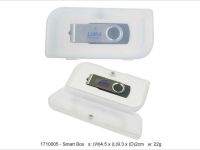 Magnetic Transparent Smart Gift Box for USB Drive
Suitable for usb drive model zx59 and zx26.
Model: 1710007 rego
Size: 9.3(L) x 4.5(W) x 2(D)cm
Weight: 22g
Like USB Smart Gift Box?
Send in your enquiry details and we shall get back to you asap.
Leave a comment
You must be logged in to post a comment.
KL Gifts Wholesale Price
Hotline: 03-7981 2999 for Premium Gift Catalogue and Pricelist. ------------------------------------ Custom made manufacture of corporate gift products, provide idea, gifts' brain storming and beyond creative design & logo render production manufacturer. Specialise in Corporate Gift, Annual Dinner Door Gift, Customized Promotional Free Gifts etc. Distribute around Malaysia to Kuala Lumpur, Selangor, Penang, Johor Bahru, Sabah & Sarawak corporate gifts distributor. Our gifts are mostly imported from China, Hong Kong, India.

- Barang Jenama Harga Borong Jualan Murah -